Advanced Threats. Smarter Defense.
Eliminates junk intelligence with AI and focuses on real cyber threats.
Digital Risk Protection Services
Brandefense is a managed digital risk protection platform.
Brand Protection Solution
Brandefense protects your brand on the dark web.
Cyber Threat Intelligence
Access the high confidence threat intelligence feed
The numbers and results of cyber-attacks do not lie.
Threats are real. Stay guarded.
Security professionals' workload makes it hard to keep up with cybercriminals' newest TTPs. Brandefense meets security professionals' needs and simplifies the process of collecting actionable cyber intelligence.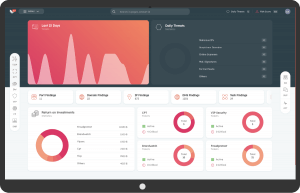 Managed and Integrated Digital Risk Protection Platform
Monitor the dark web and get early warnings about targeted attacks.
2. AI-Driven Intelligence
Eliminate junk intelligence with AI-driven threat intelligence.
3. False Positive Elimination
Receive effective alarms with intelligent automation and optimization of analysts' efforts.
Monitor your attack surface and reveal the risks.
With Brandefense Data Leak Monitoring Services, you can be sure that your company's confidential information is safe and secure.
Find the perfect packages for you
You can create a custom Brandefense dashboard with our solutions you need and get an optimized price.
You can start using Brandefense instantly and start receiving both general and corporate threat intelligence data.
Hackers can target your institution at any time. Brandefense can be your eyes and ears among hackers.
Integrate with your technologies
You can take more effective security measures by feeding your technologies false-positive free intelligence. And with Brandefense's advanced API, you can integrate all the data with your technologies.