Last updated on January 31st, 2023 at 05:18 pm
Bitdefender security researchers have released a decryptor tool for targets attacked by MegaCortex Ransomware. MegaCortex is a ransomware that has been active since May 2019. The operators behind this ransomware target organizations worldwide with their ability to infiltrate computer networks, escalate privileges, install or trigger malware, then encrypt the compromised system.
In the analysis by security researchers, it has been determined that MegaCortex attacks also have findings associated with Emotet and Qbot botnet malware. This is an indication that MegaCortex malware is intertwined with other malware activities.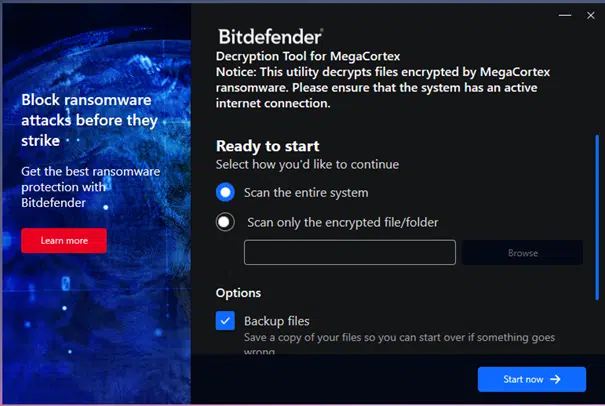 As a move against MegaCortex operators who are demanding substantial ransoms from organizations for the recovery of encrypted data, Bitdefender has published a decryption tool and a guide on using the tool to assist the targets. The published guide recommends that users keep the "Back up files" option enabled. Thanks to the backup option, users can view both their encrypted and decrypted files.
The decryption tool can be downloaded from BitDefender servers. The project helps over 1.5 million victims of ransomware attacks retrieve their files without paying the ransom. In order not to be the target of ransomware attacks that may be carried out in this context, the following security practices should be considered.
Files, attachments, and links from unknown parties should not be respected,
Comprehensive security solutions should be deployed,
Sensitive systems and data should be backed up regularly,
The system, applications, and programs being used should always be kept up to date.