Last updated on December 12th, 2022 at 02:02 pm
E-mail marketing company MailChimp has been exposed to a data breach by the threat actor. It has been detected that the threat actor, who have infiltrated the company's systems and captured more than 100 user information, use this data in phishing activities targeting the popular crypto wallet Trezor.
In the MailChimp breach, an unknown threat actor hijacked internal tools used by the company's customer support staff for account management. This social engineering attack that targets MailChimp's employees resulted in the hijacking of employee credentials.
After the MailChimp attack, users of the Trezor crypto wallet that hardware that allows users to store their cryptocurrencies offline reported receiving suspicious e-mails about a security incident related to the company. These e-mails received by users are part of a carried out phishing attack through captured data in the MailChimp attack.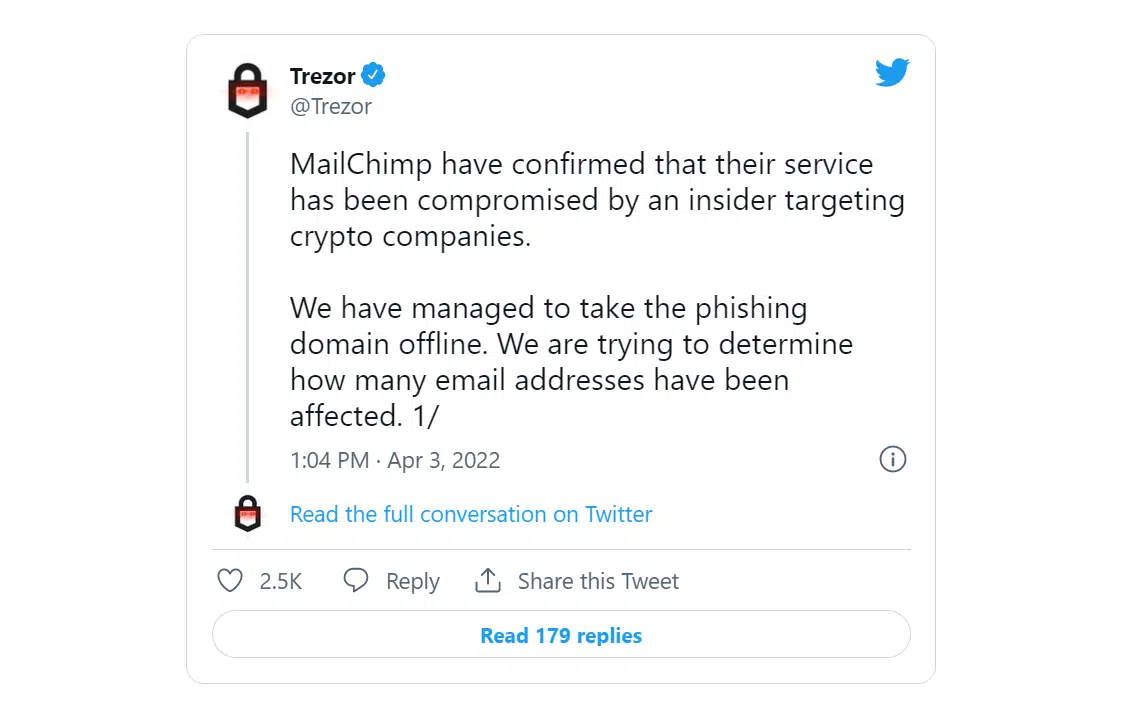 In that phishing campaign, e-mails were sent to buyers informing them that Trezor had suffered a security breach and that they needed to download the latest version of the Trezor Suite and set up a new PIN for the wallets to protect their assets. If users download the fake application and enter their password information, crypto money wallets are seized by the threat actor.
In this context, it is recommended to disregard e-mails and links that seem to come from Trezor, change the information used in MailChimp accounts using strong policies, be aware of leaked data, and enable 2FA/MFA features on used platforms. In addition important to raise awareness of institution/organization personnel against possible phishing or social engineering attacks.