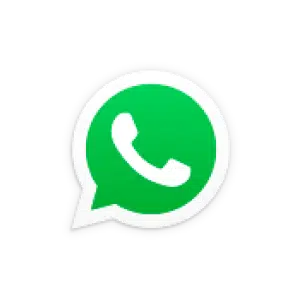 WhatsApp

Suffered

from

a

Data

Breach

–

487

Million 

Users'

Data

in

Danger
In a well-known hacking forum, it was detected that on November 16, 2022, a threat actor claimed that a database of 487 million WhatsApp users' mobile phone numbers was compromised.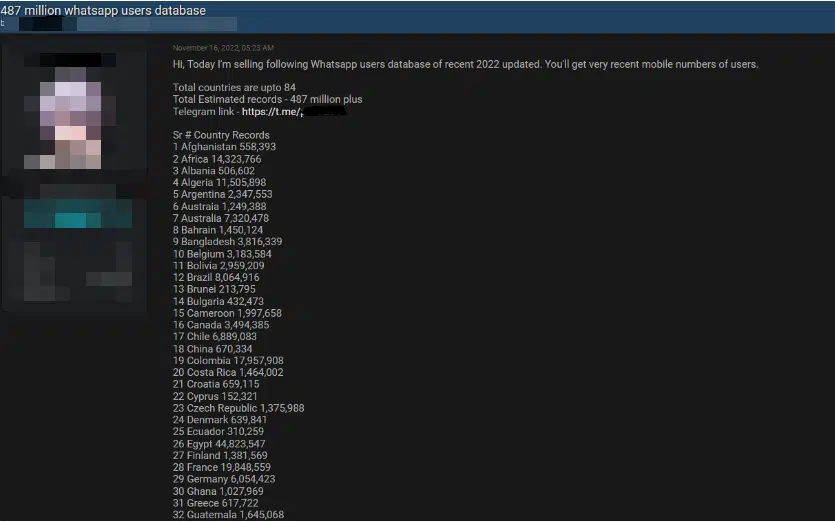 It is claimed that the database seized in the post contains the personal data of WhatsApp users from 84 countries. The distribution of the compromised data by country is given below;
45 Million User Data of Egyptian Citizens
32 Million User Data of US citizens
35 Million User Data of Italian citizens
29 Million User Data of Saudi Arabian Citizens
20 Million User Data of French Citizens
20 Million User Data of Turkish Citizens
10 Million User Data of Russian Citizens
Over 11 Million User Data of UK Citizens
Cybernews researchers contacted the threat actor who shared the post and requested a data set sample as evidence to confirm the relevant leak. In the shared example, there are phone numbers of 1097 UK and 817 US users. However, the threat actor did not provide details on how the database was obtained, suggesting that they used their strategies to collect the data. Upon this, the analysis of the sample data set by Cybernews researchers confirmed that all numbers belong to active WhatsApp users.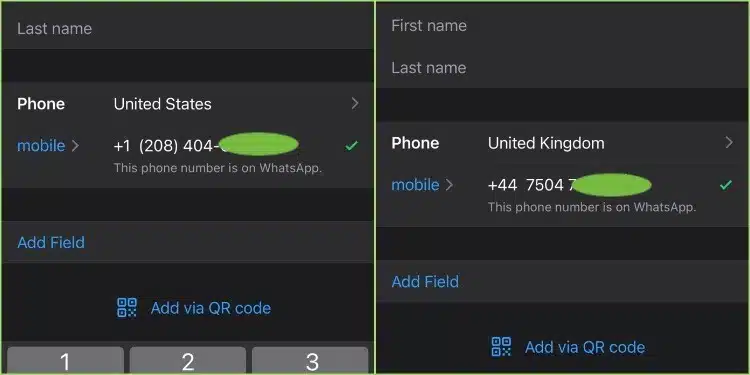 The intercepted data is mostly used in
phishing
, smashing, and vishing attacks by threat actors. So, WhatsApp users are advised to be wary of incoming calls and message contents from unknown numbers. Meta, the parent company of WhatsApp, was contacted regarding the related data leak, but a response has yet to be received. WhatsApp users and parties will be informed in case of development on the subject.
Amazon

Fixes

a

Security

Vulnerability

Affecting

AWS

AppSync
A security vulnerability called "cross-tenant" has been detected by Datadog researchers in AppSync, a popular Amazon Web Services (AWS) tool. AppSync is a popular AWS service that allows developers to quickly create GraphQL and Pub/Sub APIs.
The vulnerability is due to a case-sensitivity parsing issue of the AppSync service that could potentially be used to bypass cross-account role usage validations and act as a service on customer accounts. Successful vulnerability exploitation allows threat actors to assume Identity and Access Management (IAM) roles in other AWS accounts.

The vulnerability detected on September 1, 2022, was immediately reported to
AWS.
AWS, which rescheduled the attack, verified the impact of the vulnerability and released a fix that fixed it. In addition,
Amazon released a statement on Monday, November 21
,
confirming the details of the vulnerability and stating that no customers were affected by the vulnerability. There is no action for Amazon customers to take due to the vulnerability.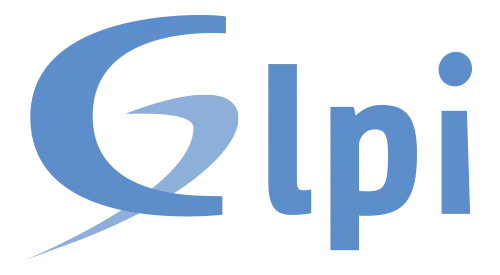 Multiple

Vulnerabilities

Detected

in

IT

Management

Solution

GLPI
Multiple security vulnerabilities have been identified in GLPI, an open-source web application that helps institutions/organizations and companies manage their IT infrastructure and inventories. These vulnerabilities allow threat actors to execute SQL queries against the application database and to perform Cross-Site Scripting (XSS) and Server-Side Request Forgery (SSRF) attacks.
The details of the detected security vulnerabilities are as follows;
These vulnerabilities affect specific versions of GLPI, and security updates have been released that fix the vulnerabilities. In this context, it is recommended to immediately upgrade vulnerable installations to the current versions published in order not to be the target of attacks that can be carried out using vulnerabilities.