In the dynamic and ever-evolving landscape of business and innovation, being recognized for exceptional achievements is a testament to dedication, innovation, and the pursuit of excellence. We are thrilled to share that our brand, Brandefense, has achieved a remarkable milestone by securing a place on the esteemed Fast Company Turkey's Top 100 Start-Up List. This recognition reaffirms our commitment to driving innovation, our passion for redefining industry norms, and our unwavering dedication to making a positive impact.
A Glimpse into Fast Company Turkey's Top 100 Start-Up List
Fast Company Turkey's Top 100 Start-Up List serves as a platform to showcase the most innovative and visionary companies that are shaping the future of business. It is an honor to be among the elite group of trailblazing start-ups that are driving change and making waves in various industries. This accolade recognizes our brand's remarkable journey, and highlighting our significant contributions.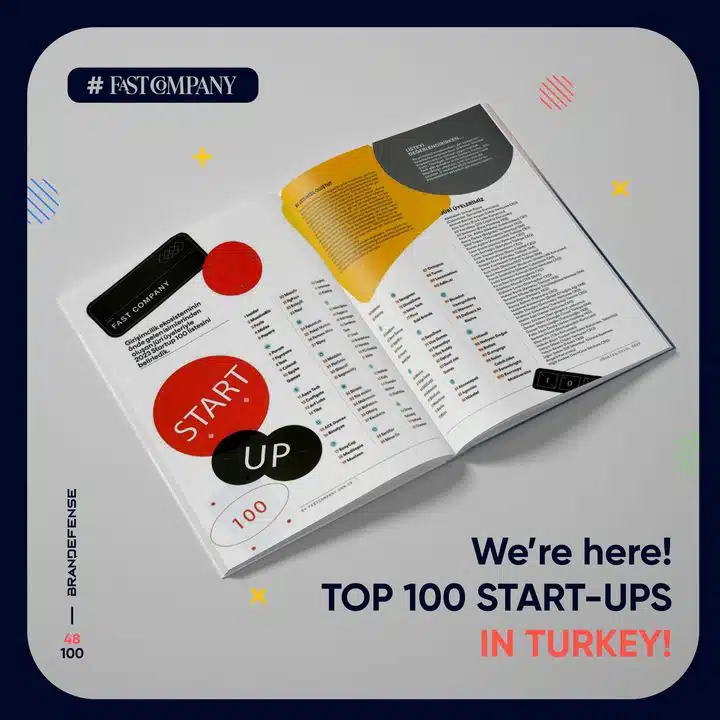 Brandefense's Unwavering Commitment to Innovation
At Brandefense, innovation is at the core of everything we do. Our journey began with a vision to help CISOs and Security Analysts detect and respond to attacks, providing them with the tools to protect their organization from malicious threats. Brandefense in your organization's cybersecurity strategy can help you monitor and mitigate risks, ensuring a proactive approach to protecting your digital presence.
Being selected for Fast Company Turkey's Top 100 Start-Up List is a testament to the countless hours our dedicated team has invested in developing cutting-edge solutions that address the evolving needs of our clients.
The Impact of Our Solutions
We take pride in our digital risk protection, threat intelligence, and attack surface management solutions that have made a tangible impact in the cyber security sector. Our commitment to excellence and our drive to deliver exceptional value have garnered recognition from our clients and industry experts and peers. Fast Company Turkey's accolade further validates our efforts' significance and motivates us to continue pushing boundaries.
Thank You, Our Supporters
We extend our heartfelt gratitude to our incredible team, loyal clients, partners, and supporters who have been instrumental in our journey. Your unwavering belief in our vision and dedication to our mission has driven this achievement. This recognition belongs to each and every one of you who has been a part of the Brandefense journey.
Looking Ahead
While this recognition is a remarkable milestone, but also a stepping stone towards even greater accomplishments. We remain committed to staying at the forefront of innovation, driving positive change, and continuing to exceed the expectations of our clients and partners. The journey ahead is filled with exciting opportunities; we can't wait to share them with you.
Earning a spot on Fast Company Turkey's Top 100 Start-Up List is a moment of immense pride and joy for the entire Brandefense family. This achievement affirms our dedication to innovation, excellence, and making a lasting impact in the industry. We are excited about the future and can't wait to continue this growth, innovation, and success journey together.
Thank you for your continued support and belief in Brandefense!